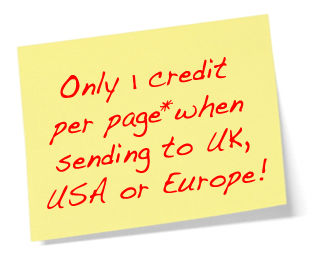 Sending rates
Send your faxes all around the world
The table below shows our current 'rate per page'. We normally charge by the page, not call duration*. The standard rate in the UK for geographic numbers is one credit per page. This rate varies for other destinations, as shown below.
* 1. Faxes taking more than a minute per page, to transmit, will be charged on a per minute basis.
  2. If a fax fails, other than a busy tone, it will not be retried. Additionally, the sender may get charged a per-minute charge.
Credits are sold as follows:
(Prices exclude VAT)
100 Credits
£10.00
10p per credit
250 Credits
£20.00
8p per credit
500 Credits
£30.00
6p per credit
1000 Credits
£50.00
5p per credit
Credits never expire and you are under no obligation to purchase credits on a subscription basis.
You can purchase credits during sign-up or via your control panel at any time on this web site.